Looking for the Ideal Place to Pitch a Tent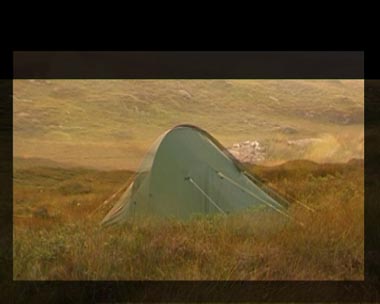 Looking for the Ideal Place to Pitch a Tent is an ongoing work. Cycling around the British coast keeping to the roads and paths that run closest to the sea. The place I'm aiming for isn't fixed but en-route. When I'm cycling I don't know where I'll pitch my tent until the moment arrives at the end of the day. The next day I move on.
The work could be described as nomadic, shifting in form after each leg of the journey. In a state of flux and open ended.
First shown at Mid Pennine Gallery  as three separate projections: the tent in the foreground, middle distance and distance. The videos are silent. The tent remains static as each image is re-framed.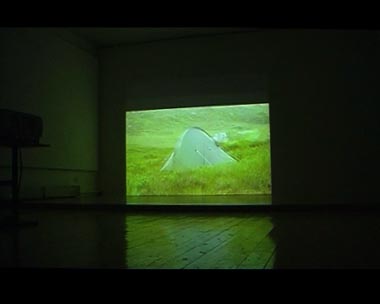 After the second leg of the journey the work was shown as part of Picturesque at Tullie House in Carlisle. A single projection onto a small suspended perspex screen, the image and the soundtrack forming a composite weaving the multitude of sites together.
Elixir– Screening at Gloucester Royal Hospital, 2007
Picturesque – Group show at Tullie House Museum, Carlisle, 2003 (catalogue available)
Chocker****ingblock – Group show at Jeffrey Charles Gallery, London, 2003
Freebase – Group show of ACAVA Firstbase artists, Century Gallery, 2001

Looking for the Ideal Place to Pitch a Tent – Solo show at Mid Pennine Gallery, 2001